Schwarz-Etienne: a watchmaking legend rises from the ashes
Suddenly, away from the main BaselWorld hall, Schwarz-Etienne seems to have finally stepped out of the shadows. Raffaello Radicchi's taking over has boosted the brand to the point that it ish set it to follow in the footsteps of Roswell.
The brand founded in 1902 by Paul Arthur Schwarz and his wife, Olga Etienne, is etched in the collective unconscious of every child from La Chaux-de-Fonds. Its famous 'SE' logo has featured on top of a wall in the watchmaking metropolis for so long that the history behind it has almost faded away. Until the watchmaking crisis of the early 1970s, the brand had never once stopped its industrial activities of producing movements that it sold to other brands. Indeed, Ebauches SA – renamed ETA in 1985 – even trusted it with the production of legendary calibers such as Venus, Alpha, Astin and Chanel. Incidentally, it is not unusual to find Schwarz-Etienne watches from that time in perfect condition for sale on websites auctioning vintage pieces. They are invariably the silent witnesses to the stories of the thousands of people who owned them before.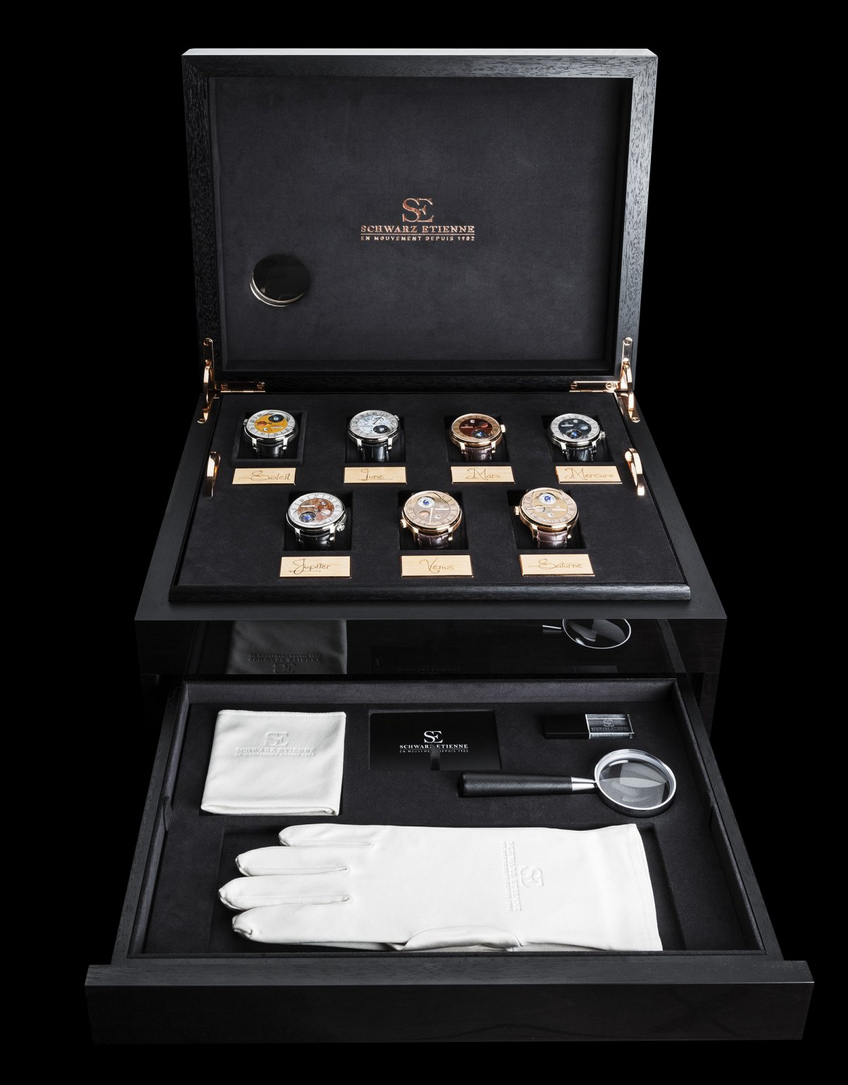 Schwarz Etienne Ode à la Semaine 7 tourbillons
The CHF-1-million presentation case
The slogan "En mouvement depuis 1902" (in movement since 1902) is today an allusion to the brand's glorious past and to its revival during the last fifteen years, which focused on the production of tourbillons. Indeed, this solid wooden presentation case holds seven unique tourbillons dedicated to the planets of the solar system – and to the days of the week by extension. The rare, beautifully lacquered case was the work of a miniaturist painter who also painted the exceptional dials of the pieces. Each of the pieces illustrates the artist's interpretation through a blend of specific colors and vital finishes. Everything else in each creation evokes respect for watchmaking and complication arts, and was also treated in this particular way, which highlights their uniqueness.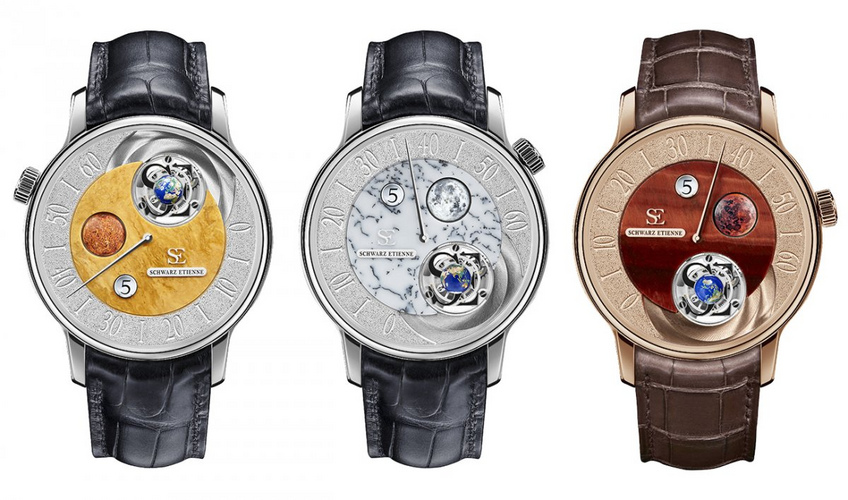 Schwarz Etienne Ode de la semaine Soleil, Lune & Mars
These timepieces can be bought separately though it is highly recommended to buy them all. It shouldn't be a problem for those who can afford the CHF 1million this mini collection costs. In fact, they would almost be naturally inclined to do so as there is no reason why they should avoid wearing a different watch each day.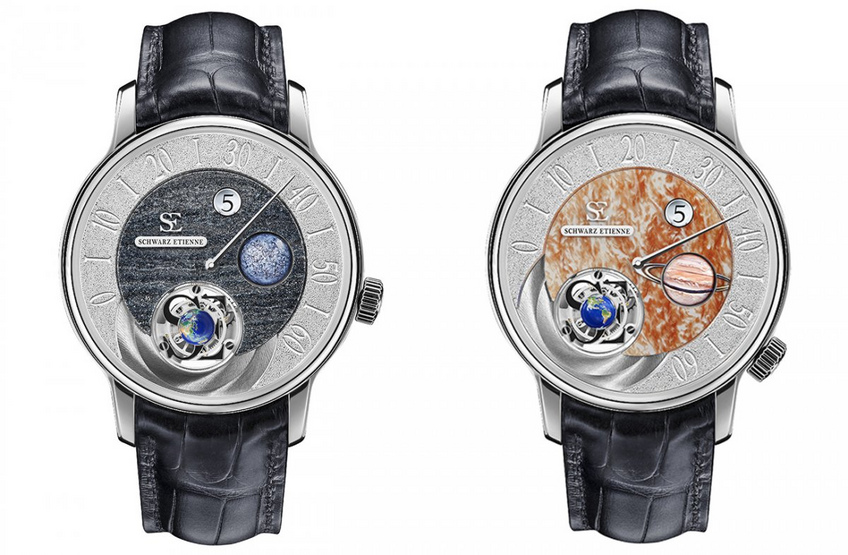 Schwarz Etienne Ode de la semaine Mercure & Jupiter
The new Roswell range
Schwarz-Etienne started 2015 by introducing a new range called the "Roswell Irreversible". Its pieces feature a saucer-shaped case with polished angles and varied surfaces with different finishes and coatings. The arrival of CEO Mauro Egermini after the takeover perpetuated the brand's production of in-house movements but also brought about a project to create a range of in-house calibers. The independent nature of these calibers is highly likely to attract demands from other brands that cannot afford independence – something the project is banking on. The balance-spring of the Roswells can be seen through their open worked dials whose original design hints at the spaces where complications will be gradually added. This will be done as the brand learns to master small valuable complications, and gradually achieves its expected results and sells its range of movements.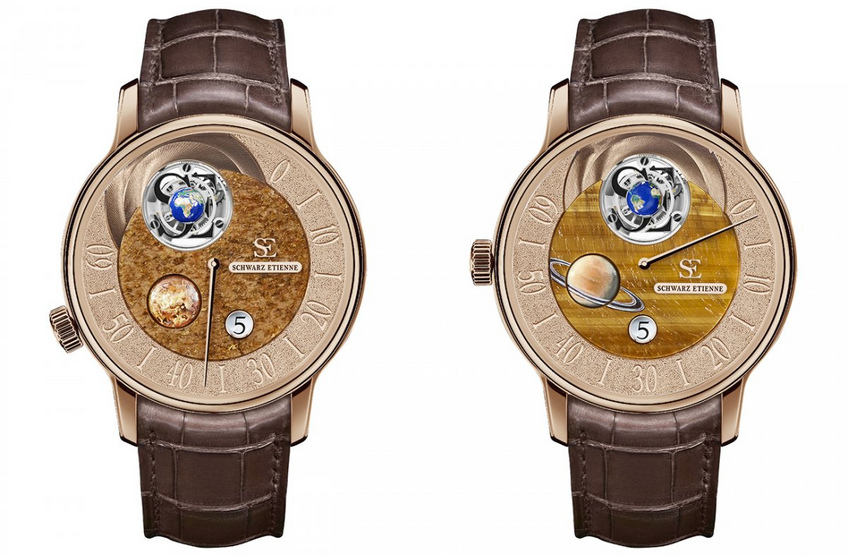 Schwarz Etienne Ode de la semaine Venus & Saturne
A crazy eco-friendly product
With the takeover of the brand by Raffaello Radicchi, an entrepreneur from La Chaux-de-Fonds, Schwarz-Etienne is set to become a renowned brand if only because its past treasures are very promising for the future. The brand is worth the attention of collectors whose pronounced tastes and non-conformist adventurous tendencies have an effect on the market.
On top of that, it boasts a certain contemporaneity in its genuine classicism and is particularly avant-garde when it comes to eco-friendly products.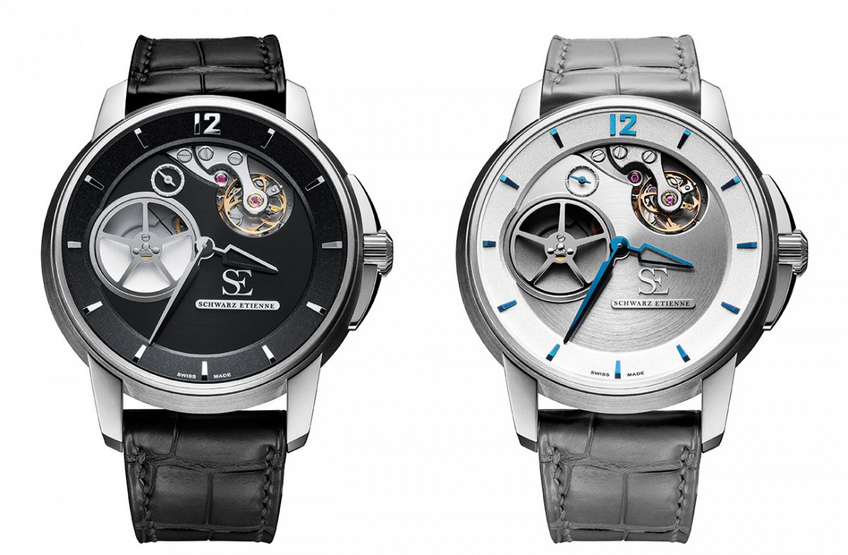 Schwarz Etienne's new line: Rosswell Irreversible
Three printable drawings are available on the brand's website. Through an application available for all smartphones, these drawings offer a beautiful experience of increased reality. Suddenly, the very visual dial gives a view on either the workings of the open worked movement, which reveals its polished gears, or the new Roswell, worn on the wrist. In addition to this experimental approach that will be available to the public soon, the brand offered visitors to its stand at Baselworld to put on magical glasses to watch a short 3D panoramic film. The film featured a cinematographic universe interspersed with planets and a flying saucer that decorated a Roswell whose back can be removed to reveal, instead of small green men, an elegant gear-revealing open worked caliber.
By
Joel Grandjean
,
Editor in Chief
They all have a connection with La Chaux-de-Fonds, they are all collectively grouped under the 'IMetAWatch' hashtag, and all three timepieces were...